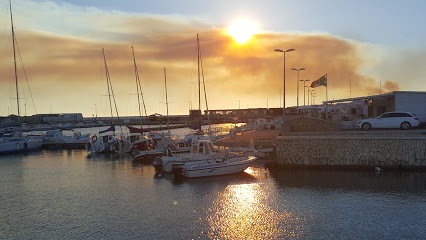 Season Prices for 12m S/Y in €
Our MS members like it much more than do Google reviewers. They certainly prefer it to nearby Empedocle. Very good access to the wonderful Greek temples at Agrigento. Swell enters with a SW - frequent here. It is mainly a motor boat port with a couple of sailing yachts under 12m. Depths are better than indicated with over 3m on the starboard side and in the basin.
The tourist port of San Leone is 7 km from Agrigento and 5 minutes from the Valley of the Temples, a UNESCO World Heritage Site. Entering the port, immediately to the right (east pier) in the immediate vicinity of the green light, there is the floating pier of the Nautical Club Mare Nostrum. The jetty has 50 moorings for boats up to 25 meters, mooring draft from 3.50 to 3.90 meters and is authorized to accommodate boats of class IV, V, VI. The pier is 60 meters long, in concrete with iroko wooden flooring. Each berth is equipped with an individual berth for water and light and trappe for mooring to the dead body. The only structure inside the port has hot water showers. The whole complex is covered by a 24 hour digital video surveillance system and a telephone signal. The club offers 24-hour weather information services also via SMS and bunkering service.